Marking 85 years of serving the community
14 Aug 2020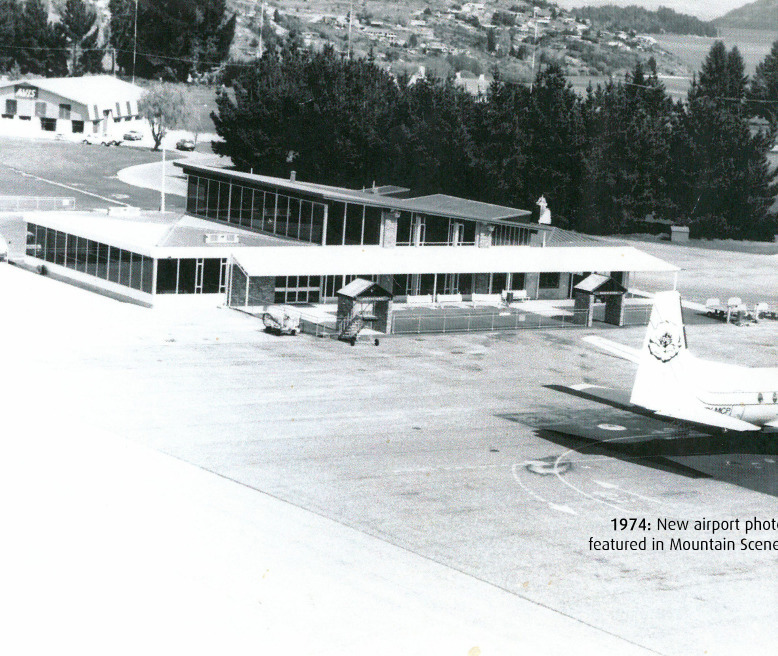 Queenstown Airport began serving the communities of the Southern Lakes region 85 years ago today making it one of the oldest commercial airports in New Zealand operating on its original site. Through the decades the airport has evolved from an airstrip to the international airport it is in 2020.
In 1935 the population of Queenstown was about 1,000. Today it is approximately 28,000. The airport and the businesses operating here have grown with the district as both the resident population and visitor numbers have increased over time. It is a unique situation - a small population hosting an international airport, and because of the thriving general aviation activity in and around Queenstown, one of the busiest airfields in the country.
Queenstown Airport Chief Executive Colin Keel said: "Queenstown Airport has been an integral part of the district's fabric throughout its history supporting and contributing to a vibrant and prosperous place. As we mark its 85th birthday, albeit in very different circumstances than we expected when we began our planning at the start of the year, it is timely to reflect on the gumption and pioneering spirit of those who founded the airport and developed this alpine aviation base over the decades."
Air New Zealand Group General Manager Airports Leanne Geraghty said: "We've been flying to Queenstown since the 1960s and have since worked closely with the airport to achieve several milestones like night flying in 2016 and most recently the Required Navigation Performance (RNP AR) technology on our ATRs which means bad weather will have less of an impact on our flights. Queenstown continues to be a popular destination for Air New Zealand customers,"
"We look forward to continuing to work with Queenstown Airport and the local community to support the region's long-term success."
Queenstown Lakes District Mayor Jim Boult said: "My first acquaintance with Queenstown Airport was in 1966 when as a very young student pilot my logbook tells me that I flew in from Invercargill in a Victa Airtourer. The "terminal" in those days was something of a shed, and the facilities were rudimentary indeed. I think I am right that the sealed runway did not arrive until the late '60s when the impending arrival of Mount Cook Airlines' Hawker Siddeley 748 aircraft made this essential. Many extensions and upgrades later, I still well recall the original terminal with a partial wire fence separating the public from the aircraft,"
"From those very humble beginnings, Queenstown Airport has developed over the last 85 years to be a vital gateway for the district's economy, for locals to visit friends and whānau, and as a starting point for worldwide travel. And as well as serving up one of the most stunning entry points to our area, it also provides an essential lifeline in times of crisis and emergency. How wonderful it is to have our airport so close to us, and I'm not surprised at the number of locals who frequently comment to me about its convenience. I, for one, am delighted the airport has endured and I am sure will be here for future generations to enjoy whatever advances in flight technology are in store in the decades to come."
Auckland Airport Chief Executive Adrian Littlewood said: "Happy birthday and congratulations to Queenstown Airport, celebrating 85 years of connecting people with one of our country's most beautiful destinations. Few places on earth are as spectacular and as aviation gets past its current challenges, we know the airport will continue to serve the people of Queenstown and Central Otago for many years to come."
Mr Keel said: "Community has been at the heart of Queenstown Airport throughout the decades and the airport is literally at the heart of the community. As we pay tribute today to those early aviation pioneers, I'd also like to acknowledge and thank the many people in our community who work at the airport now or have in the past,"
"We all carry forward an important legacy as we continue to adapt and innovate in shaping the future of Queenstown Airport for generations to come."
Key dates:
On 14 August 1935 Queenstown Airport was first granted its license to operate by the Civil Aviation Authority. The aerodrome was established in 1935 by the Frankton Aerodrome Board, a community organisation.
After World War 2, in December 1946, Bill Hewett founded company, Southern Scenic Air Trips and commenced charter operations from Queenstown. Hewett was soon joined by other ex-servicemen; Tex Smith, Fred 'Popeye' Lucas and Barry Topliss, and the company was renamed Southern Scenic Air Services.
By the 1950s, commercial flights were commonplace, with the majority going between Queenstown and Milford Sound. Southern Scenic introduced the first scheduled air service from Queenstown to Dunedin on 17 July 1950 and the first airfield at Milford Sound was operational from May 1952.
In 1964 the first small terminal was built and Mount Cook Airlines began to fly DC-3 aircraft into Queenstown. The first flight was on 3 February 1964 from Christchurch which carried about 30 passengers and 2 crew.
Queenstown Airport welcomed its first international flight on 1 July 1995 operated by Air New Zealand from Sydney, connecting Australians to New Zealand's home of alpine adventure in time for the ski season. In July 2005 Qantas introduced direct services to Queenstown from Australia.
In 2014 the New Zealand Civil Aviation Authority (CAA) and Australia's Civil Aviation Safety Authority (CASA) approved the airport's evening flights safety case. It was an historic moment for Queenstown Airport and a major milestone for New Zealand aviation and tourism when domestic and trans-Tasman after-dark flights then began in 2016.