Orbus Public Bus Service
The Otago Regional Council, with support from the Queenstown Lakes District Council and the New Zealand Transport Authority, operates the $2 Orbus network.
The public bus service is an easy and affordable way to explore Queenstown and Arrowtown. All you need to do is get a Bee Card!
Bus Fares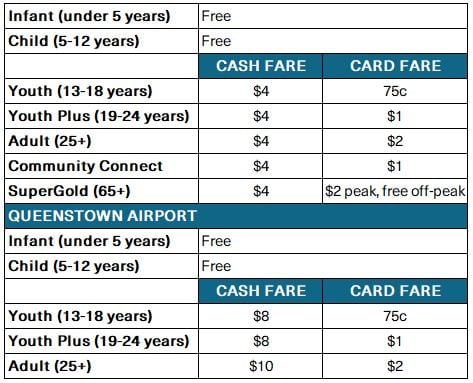 You can purchase a Bee Card online, at Paper Plus located in the main airport terminal and the Otago Regional Council in Frankton (during business hours), or with cash on the bus.
If your bus journey involves a transfer, it still only costs $2 per adult. Just make sure that you board and tag on the next bus within 45 minutes of tagging off the previous bus.
The minimum top-up for Bee Cards is $5. Bee Cards can be topped up anywhere that they're sold. You can also top up online and set an auto top up.
There is a one-off cost of $5 to buy a Bee Card but once you have it you'll have ongoing access to the $2 fare. Your Bee Card can also be used across numerous other bus networks in New Zealand.
Buses depart from Queenstown Airport approximately every 15 minutes, 7 days a week.