Positive response to draft Master Plan for Queenstown Airport
30 Aug 2023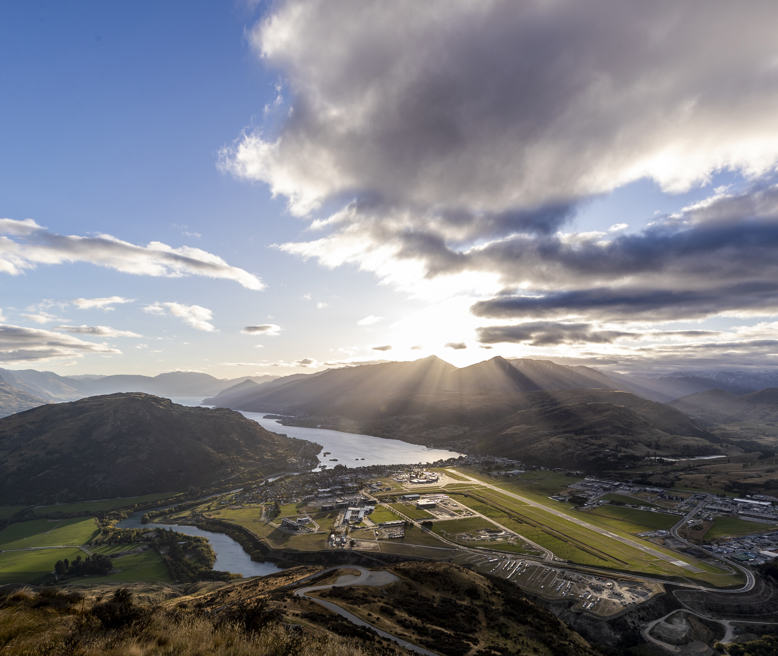 Community feedback on Queenstown Airport's draft Master Plan has revealed solid support for further investment in safety enhancements and for upgrades to the airfield, terminal and ground transport links.
Queenstown Airport Chief Executive Glen Sowry said the draft plan attracted widespread interest and a broad range of feedback.
"This has given us confidence we have support for our approach and we look forward to working with our shareholders to finalise a plan."
The feedback has been closely analysed and categorised into themes of importance to the communities of the region.
"One of the strongest themes drawn from the feedback is the desire for an airport the community can be proud of and that reflects the community's expectations and aspirations," Mr Sowry said. "Improving customer experience – in particular passenger flow through the terminal, as well as the retail and dining options – was a consistent theme."
The proposed relocation of helicopters and fixed-wing aircraft was also well supported by both general aviation operators and those living near the airport, because it will streamline airfield operations and reduce noise for many Frankton residents.
The airport company was urged to take a leadership role in ground transport improvements to encourage mode shift from private vehicles to public transport and active travel, in particular through connection to the area's cycle trails.
While Wānaka Airport was not in scope for this Master Plan, several respondents raised the future development opportunities for the QLDC-owned Wānaka Airport and the QAC-owned land neighbouring Wānaka Airport.
Others raised concerns about the proposed infrastructure upgrades and development of Queenstown Airport and an increase in flights resulting in increased carbon emissions.
The impact of noise and increased activity on the local community was raised as a concern.
"We are very mindful of the importance of finding the right balance. We worked on the draft Master Plan for close to a year to ensure we took the time required to hear from a wide range of organisations and individuals to test what that right balance is," Mr Sowry said.
"A few years ago, the airport company was contemplating an extension to the air noise boundaries. However, last year, in response to clear community sentiment, we made a key strategic commitment to operate within the airport's existing noise boundaries out to 2032, which is reflected in the plan."
The consultation also prompted broader feedback on issues affecting the region, which go beyond the airport's remit.
"The Queenstown Lakes District is a highly desirable destination with a relatively small resident population, which creates challenges as well as opportunities," Mr Sowry said.
"The level of growth the district and wider region could and should accommodate is a sensitive topic, and the feedback received during our consultation has made it clear that a much broader community conversation is necessary.
"Decisions around population growth, investments in tourism, and visitation levels are most appropriately led by QLDC and the regional tourism organisations that represent our region."
Mr Sowry said he was grateful to all those who participated in the community consultation and took the time to make submissions.
"It is really important to hear as diverse a range of opinions as possible and use that to create a final Master Plan for an airport that is future-ready, proactive about climate change, and continues to contribute to the social and economic wellbeing of the region over the long term," he said.
Queenstown Airport has also consulted iwi and received feedback from airport stakeholders.
"We are now preparing a schedule of changes, which will be discussed with our shareholders before developing a final Master Plan for approval."
Snapshot of Community Engagement

Community consultation was conducted in partnership with the Queenstown Lakes District Council between 24 May and 23 June 2023.
The draft Master Plan proposes a series of improvements focusing on safety, resilience, efficiency, and customer experience. It also allocates space to enable and support the decarbonisation of aviation and to protect options to meet the community's future needs.
A multi-channel engagement plan ensured there was nationwide publicity about the community consultation and a variety of opportunities to learn more and to provide feedback, both digitally and in person.
Close to 3,000 people accessed information about the draft plan on the airport's website.
A video introducing the draft plan was viewed more than 2,300 times.
More than 300 people attended drop-in sessions or presentations during the consultation period.
More than 230 submissions were made through QLDC's Let's Talk platform and other feedback was gathered at public information sessions and meetings with community organisations.
The full engagement report is available here. All the feedback received through the QLDC/QAC consultation on Let's Talk is also now publicly available, with appropriate privacy protections in place.
Draft Master Plan material is available here.