Queenstown Airport hosts major artwork by Natalya Doudell
7 Oct 2022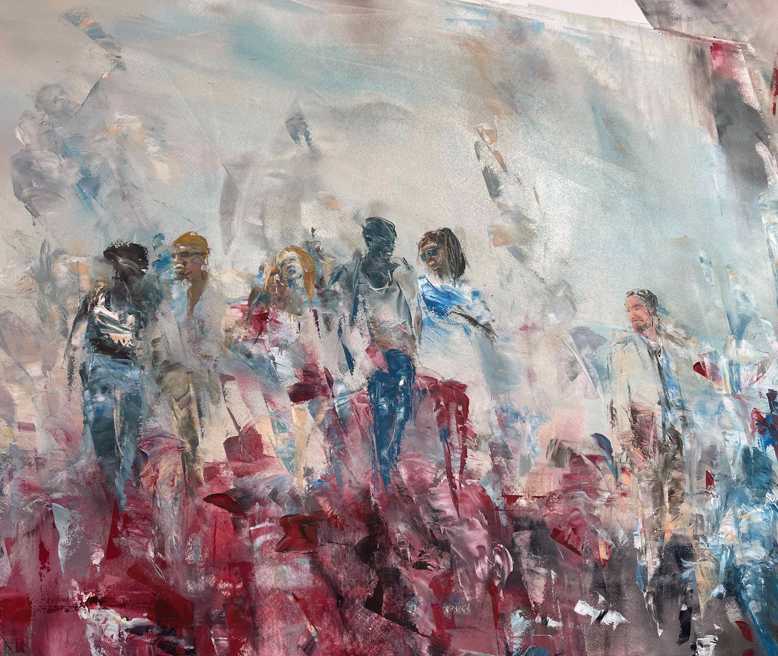 Queenstown Airport is doubling as an art gallery for the next few months.
Travellers waiting in the baggage claim area for their luggage can admire a major artwork created by Tauranga-based artist Natalya Doudell.
The unframed oil canvas is nearly 10 metres wide and 2 metres deep, so it needs to be exhibited on a huge wall and the Wanaka Fine Art Gallery, which represents the artist, worked with the airport to display it to the public. After lots of careful planning, the painting was installed with the help of a scissor lift one evening last week.
"Seeing my largest work on display in Queenstown Airport is both thrilling and humbling," Natalya Doudell said.
The artwork is titled 'Unity' and Natayla – who was born in Ukraine, raised in Uzbekistan, and moved to New Zealand in 2003 – found inspiration for it during the 2020 COVID-19 lockdown.
"The idea for the painting was the need for people of all races, creeds, colour, religions and viewpoints to unify in these trying times. What you see from a distance is but a blur, which comes to life as you get closer. Every time you approach, someone new appears."
New Zealand is represented by the outline of a whale.
"The theme of the painting, which incorporates a diverse range of figures, aligns closely with our values and purpose,'' Queenstown Airport General Manager Sustainability and Corporate Affairs Sara Irvine said.
"We are very happy to support the arts community and, at the same time, to give travellers something fabulous to look at while waiting for their bags."
The artwork took more than six months to paint and is for sale through the Wanaka gallery, with price on application. If it is sold while on display in the airport, a portion of the price will be donated to a local charity.