Queenstown Airport to pay $15.5 million dividend after year of strong recovery
23 Aug 2023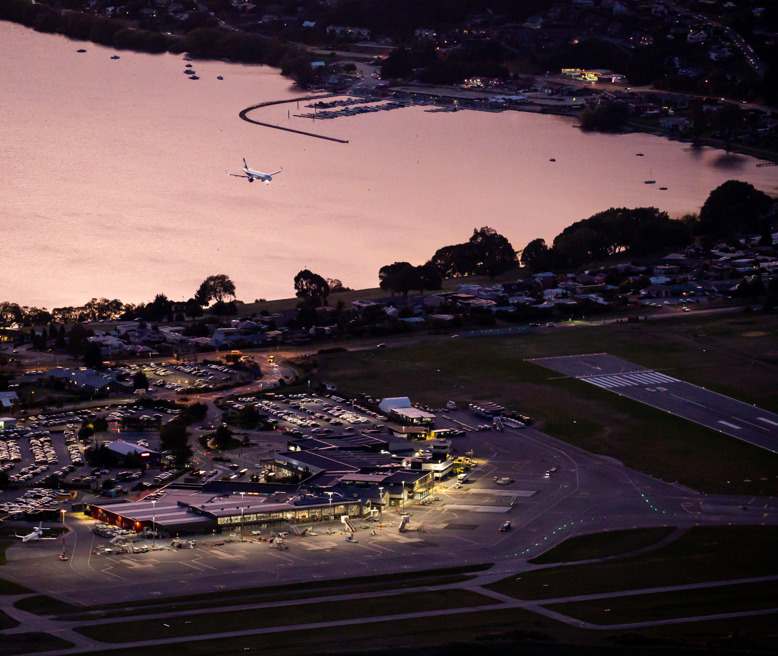 Queenstown Airport will pay shareholders a record annual dividend of $15.54 million after a strong recovery during the past financial year.
The Queenstown Airport Corporation today released its annual report for the 12 months to 30 June 2023.
Board Chair Adrienne Young-Cooper said the results reflected the steady return of passengers throughout the year.
"The impact of the COVID-19 pandemic and the related global and national response was significant. Between March 2020 and April 2022, disruptions and change became the norm. During the reporting period, stability returned and all domestic and international routes are operating again."
FY23 snapshot:
· Total annual dividend to shareholders of $15.5 million
· Revenue of $59.6 million
· Net profit after tax (NPAT) of $22.2 million
· Earnings before interest, tax, depreciation and amortisation (EBITDA) of $43.9 million
· Scheduled aircraft movements totalled 17,714
· Passenger movements totalled 2,370,488
· $120,000 contribution to the community through QAC's partnership programme
· Toitū net carbonzero certification achieved
· Queenstown Airport powered by 100% certified renewable electricity
· 65% reduction in operational greenhouse gas emissions since 2019.
"Given the strong performance of the company during this year, and after an extended period with very limited dividend payments, the board of directors is pleased to confirm a total annual dividend of $15.54 million," Mrs Young-Cooper said. "An interim dividend payment of $5.98 million was paid to shareholders in February and a final dividend of $9.56 million will be paid to shareholders this month."
The Queenstown Lakes District Council holds 75.01% of QAC shares, so its portion of the annual dividend is $11.66 million, which equates to nearly $390 per ratepayer.
Mrs Young-Cooper noted operating expenditure was comparatively low during the reporting period due to reduced budgets in place at the start of FY23 in response to the COVID-19 pandemic.
"During the second half of the year, as more certainty returned, operating expenditure increased to normalised levels."
Statistics reflect the significant demand for travel when borders reopened, with passenger and aircraft movements now back on par with FY19. Slot coordination was introduced during the reporting period, enabling better distribution of flights throughout the day.
General aviation operators based at Queenstown Airport also reported a strong recovery over the year.
Rebuilding the capacity of Queenstown Airport's workforce was an important focus over the year, with staff numbers increasing by about a third and increased emphasis on training, Chief Executive Glen Sowry said.
There was also considerable focus on long-term planning, with the release of a 10-year Strategic Plan, followed by a draft Master Plan to deliver on that strategy.
"The airport plays a crucial role in enabling the economic and social wellbeing of our region and will be a lifeline utility in the event of a natural disaster, so long-term planning is essential," Mr Sowry said.
The draft Master Plan proposes a series of improvements focusing on safety, resilience, efficiency, and customer experience. It also allocates space to enable and support the decarbonisation of aviation and to protect options to meet the community's future needs.
Community consultation on the draft plan in May and June attracted widespread interest and a broad range of feedback. An engagement report will be released soon.
Capital expenditure during FY23 targeted safety, sustainability and efficiency gains.
The establishment of an integrated operations centre, where Queenstown Airport duty managers work alongside Aviation Security managers and airline representatives, has enabled greater collaboration and real-time decision-making.
The installation of extra self-service and automated bag-drop technology in the check-in area used by Jetstar, Qantas and Virgin Australia has significantly reduced queues.
Four solar-powered aircraft access ramps, introduced just before the winter travel peak, are a significant investment in safety, accessibility and sustainability. Fully enclosed, with a low gradient and anti-slip flooring, they are safer than stairs and reduce the number of passengers who need help boarding.
The Terminal Upgrade Programme continues, with upgrades to the departures processing area and the international arrivals area completed during the reporting period.
"We are working hard to build a customer-centric culture, to deliver an exceptional customer experience, and to anticipate the needs of future travellers," Mr Sowry said.
During the year, Queenstown Airport signed up to the globally recognised Airport Service Quality (ASQ) programme.
"This gives us tools to measure our performance and to benchmark our services against those of other airports internationally," Mr Sowry said.
"We want to build a deeper understanding of our customers, their journey through Queenstown Airport, and their needs and expectations at each step along the way."
Queenstown Airport continues to implement its Sustainability Strategy and associated decarbonisation roadmap.
"We are pleased to report we have progressed from Toitū carbon reduce certification to Toitū net carbonzero certification this year," Mr Sowry said.
"We are actively working to reduce our operational emissions and have committed to certified 100% renewable electricity supply, and to elimination of non-emergency Scope 1 and 2 emissions* by 2030."
A full sustainability report, incorporating climate-related disclosures, will be released in September.
Queenstown Airport's full annual report is available to download here.
* Scope 1 emissions are direct emissions within our operational control, including our on-site boiler and operational vehicles. Scope 2 emissions are indirect emissions from electricity generation.