Queenstown Airport to pay record interim dividend
22 Feb 2023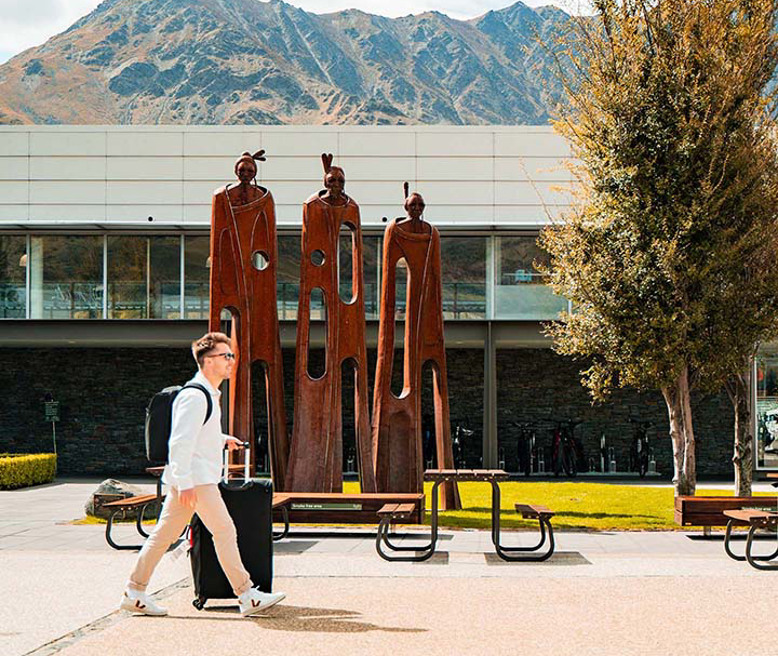 A strong start to the financial year will allow Queenstown Airport to pay a record interim dividend.
Queenstown Airport Corporation's interim results* for the six months to 31 December 2022 reflect the steady recovery of passenger numbers after travel restrictions linked to the COVID-19 pandemic were lifted.
· Interim dividend to shareholders of $5.98 million
· Revenue of $30.0 million
· Net profit after tax (NPAT) of $11.5 million
· Earnings before Interest, Tax, Depreciation and Amortisation (EBITDA) of $22.5 million
· Passenger numbers (arriving and departing) totalled 1,224,179.
The QAC board is pleased to report a strong commercial performance under dramatically different conditions to the previous year, when nationwide and regional lockdowns severely curtailed the ability to travel and created an extremely challenging business environment.
QAC board Chair Adrienne Young-Cooper said Australian and domestic visitors had steadily returned to Queenstown during the reporting period.
"The great snow conditions during winter, combined with the uplift in passengers taking the opportunity to reconnect with friends and family, made the Southern Lakes a popular destination," Mrs Young-Cooper said.
"In addition, the Queenstown Lakes District population has grown by 10.5% since 2019 and is now close to 50,000. With a larger population base and more New Zealanders working remotely, the airport remains an important link for residents of the region."
Given the strong performance of the company during the reporting period, and after an extended period with very limited dividend payments, the board was pleased to be able to announce a substantial interim dividend payment to shareholders of $5.98 million, Mrs Young-Cooper said. The board has confirmed the dividend payout ratio in FY23 will be 70% of NPAT, in line with the company's dividend policy. The final dividend will be announced in August 2023.
QAC paid a $1 million interim dividend in the 2020 financial year and none in FY21 and FY22. A final dividend of $1.3 million was paid for FY22.
As majority shareholder, the Queenstown Lakes District Council will receive $4.49 million, which equates to about $150 per ratepayer.
It is anticipated the total dividend for FY23 will be the highest ever paid. The highest full-year dividend to date was $8.3 million paid in FY19.
Businesses and airlines operating at the Queenstown and Wānaka airports were also severely affected by the pandemic and QAC implemented a broad programme of support, including rent relief. In total, 68 tenants received support valued at $12.38 million, of which $129,742 was during the reporting period.
"To date, all operators at Queenstown Airport continue to operate, which was the objective of the rent relief provided," Mrs Young-Cooper said.
Total operating expenditure was $7.5 million.
"Capital expenditure in this period included investment in the ZQN terminal refresh project to create a more attractive and accessible interior space to enhance the customer experience and to better reflect the unique character of the region we represent, as well as improving seismic performance," Chief Executive Glen Sowry said.
The project is continuing and is due to be completed in 2023.
QAC confirmed its 10-year Strategic Plan during the reporting period and the key project for the rest of the financial year is the development of a draft Master Plan.
Stakeholders and the community will be consulted on the draft Master Plan late in the financial year and a final Master Plan will be presented to shareholders for endorsement early in FY24.
"Queenstown Airport plays a crucial role in enabling the economic and social wellbeing of our region and will be an essential infrastructure asset in the event of a natural disaster,'' Mr Sowry said.
"This means we must invest in our airport to ensure it is fit for purpose and continues to meet these needs in the future."
Enabling the decarbonisation of aviation was central to the airport's strategy and long-term planning and would be critical to achieving the Queenstown Lakes District's bold ambition to be the world's first carbon-zero tourism destination, which QAC supported, Mr Sowry said.
A full sustainability report, including climate-related financial and legal risks, will be included with QAC's FY23 annual results.
Queenstown Airport's full interim report is available

here

.