Queenstown scoops honour at NZ Airports Awards
20 Sep 2016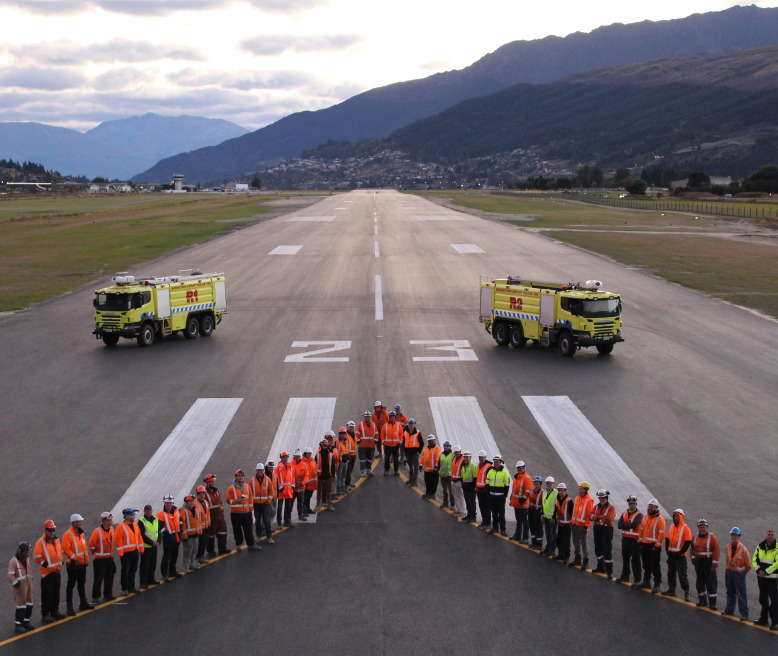 Queenstown Airport's successful runway widening and overlay to allow after-dark flights has won the Beca Project of the Year Award at the New Zealand Airports Conference in Nelson.
Named New Zealand Major Airport of the Year 2014 and Most Scenic Landing in the World 2015, Queenstown Airport is a world-class facility that is the gateway to the ski slopes and wilderness playground for millions of tourists that visit annually.
The fastest-growing airport in Australasia, Queenstown welcomed a record 1.65 million passengers during the 12 months to June 2016, reflecting a sustained pattern of passenger growth.
To increase operational capacity and improve access to the airport, Queenstown Airport Corporation (QAC) has undertaken a series of infrastructure improvements including a $17 million International Terminal upgrade, and in 2012, QAC formed a working group of technical experts from Airways NZ, Air New Zealand, Jetstar and Qantas to prepare a Foundation Safety Case for after-dark flights.
In an extraordinary show of solidarity, each organisation set aside its own commercial interests to collaborate on the project, examining project risks and what airport conditions were required to fly through the mountains and land in the dark.
The group reached unanimous agreement that after-dark flights could be an option with the right controls in place. Their safety case for after dark flights was approved by both regulators, NZ's Civil Aviation Authority (CAA) and Australia's Civil Aviation Safety Authority (CASA).
The $19.65 million runway and lighting upgrade had to be finished by April 2016, before the 2016 winter ski season, to allow time for regulatory inspections, approvals and test flights in May 2016.
Beca Principal/Technical Director, Airports, Tristan Hughes, who presented the awards, said that the award was fully deserved for a truly collaborative effort between client, airline stakeholders, consultant and contractors to enable the introduction of after-dark flights.
"The various packages of work which were successfully completed will provide not only an easing of capacity constraints for the airport but will also provide a huge boost for tourism for the region.
"The project was made significantly more complex by the need to return the runway to an operational state each morning, without fail, for the construction period of over four months. This required an extreme commitment and attention to detail from the entire project team as there was no room for error."
QAC's General Manager of Operations Mike Clay said the award was unexpected. "We knew we were up against some stiff competition because there is a lot going on in airports around New Zealand. The real driver for us was that Queenstown Airport is growing exponentially but in winter our operational hours were restricted to daylight-only which held us back to eight hours a day.
"This project was a key enabler for after-dark flights which has effectively doubled our operational usage in winter and delivered a long-term growth opportunity for the airport and the region's visitor sector. It could not have been achieved without the commitment and collaboration of our partners across the aviation industry and we're delighted with the results."
The runway works were designed and managed by Beca and constructed by Downer, with the all-important lighting installation being undertaken by Airways. The project was completed on time and budget thanks to the positive approach taken by all parties.
Downer Construction Manager, Craig McKenzie said collaboration was the key to the project's success. "Downer is an active part of the Queenstown community, so being able to contribute to a local project of this stature has been a privilege. Clearly understanding the drivers of the project, alongside the ongoing collaboration between Queenstown Airport Corporation, Beca and Downer ensured we delivered successfully.
"From a Downer perspective, this award is fantastic recognition for the team involved. Aggregate for the project was sourced from our Parkburn Quarry, we had our Road Science Laboratory and Ammann Transportable Asphalt Plant on site to ensure we could meet production schedules each night and our surfacing super-crew provided the technical expertise on the ground - having a one-stop shop onsite ensured we could deliver an exceptional project."
NZ Airports chief executive Kevin Ward said that Queenstown as a tourist destination has proven to have the X factor, creating tremendous growth. "The winning project demonstrates how airports can pull together all the affected parties and unleash new capacity. It is a project worthy of the stunning Queenstown setting."