Southern Lakes welcomes Aussies back on first trans-Tasman flight at Queenstown Airport
19 Apr 2021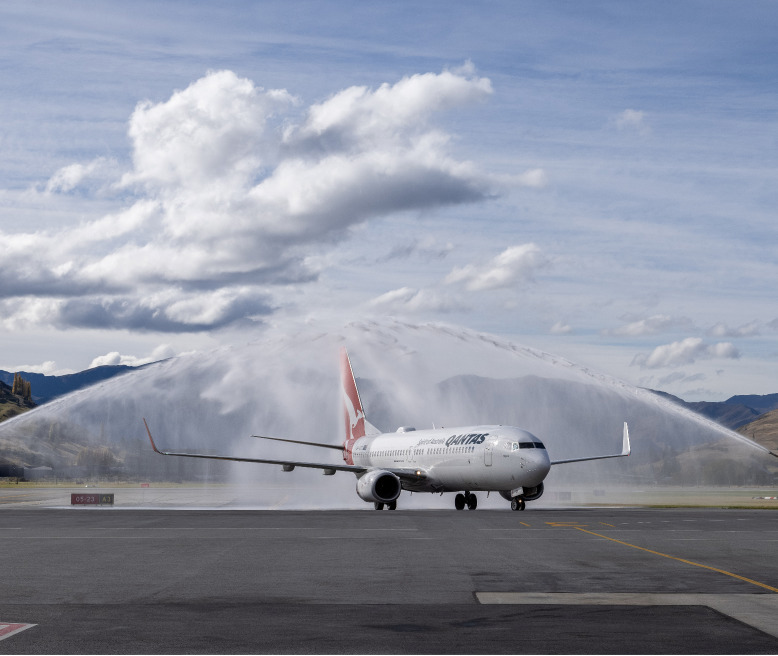 QF121 touched down at 2:31 pm this afternoon, 387 days since the last scheduled international flight arrived at Queenstown Airport.
As the aircraft approached the gate, it passed through a water arch compliments of the Queenstown Airport rescue fire team to mark the occasion.
Passengers arriving from Sydney received a warm welcome to the Southern Lakes region in the terminal. They were greeted by local kaumatua, Darren Rewi who gave a traditional mihi whakatau (welcome) to the manuhiri (visitors), as well as live music, prizes from more than 95 Queenstown and Wanaka businesses, and entertainment in the airport forecourt.
Queenstown Airport Corporation (QAC) Chair, Adrienne Young-Cooper said: "It was an emotional moment watching the Qantas flight make its approach to ZQN this afternoon. The region has been hit hard by COVID-19 and Aussie visitors are really important to us. We welcome them back with open arms."
QAC Chief Executive, Colin Keel said: "We were thrilled to mark the re-opening of the trans-Tasman border and the first quarantine-free flight from Australia to Queenstown Airport with a celebration today,"
"More than 80 businesses operate at Queenstown and Wanaka airports; the majority are locally owned and the last year has certainly been tough. It goes without saying that many of us in Queenstown, Wanaka and the wider region have been hanging on for the reopening of the border with Australia. It's a vital step towards recovery."
Queenstown Lakes Mayor Jim Boult said he was delighted to welcome the first flight into Queenstown from Australia and commended central government for making this happen.
Mayor Boult said: "It will be no surprise to anyone that many businesses and locals in the district have been struggling during the absence of international visitors. So, it's tremendous to see this turning point enabling easier business connections, families to reunite and an absolute lifeline for many tourism and hospitality providers."
As a trans-Tasman only international airport, Queenstown Airport will only be accepting 'green zone' flights and has approved protocols and procedures in place to safely manage the recommencement of direct flights to and from Australia."
"The health, safety and wellbeing of our team, airport community and the travelling public remains our highest priority. We have and will continue to have robust health, safety and cleaning protocols in place at Queenstown Airport," said Mr Keel.
Prior to COVID-19, 30% of all passenger arrivals and departures at Queenstown Airport were on trans-Tasman flights. In 2019, 716,908 passengers arrived and departed on the direct Australia flights.
Mr Keel said: "This week we are expecting about 36 direct flights (arrivals and departures) between Australia and Queenstown. As we get closer to the ski season that number will increase significantly,"
"Direct scheduled services will be operated by Air New Zealand and Qantas between Queenstown and Sydney, Melbourne and Brisbane to start. Within the coming weeks we expect Jetstar and Virgin Australia to confirm the recommencement dates for their services, including the Queenstown to Gold Coast route," said Mr Keel.
During the 2019 winter season up to 160 flights arrived and departed between Queenstown and Australia each week.