Doing the right thing
1 Mar 2023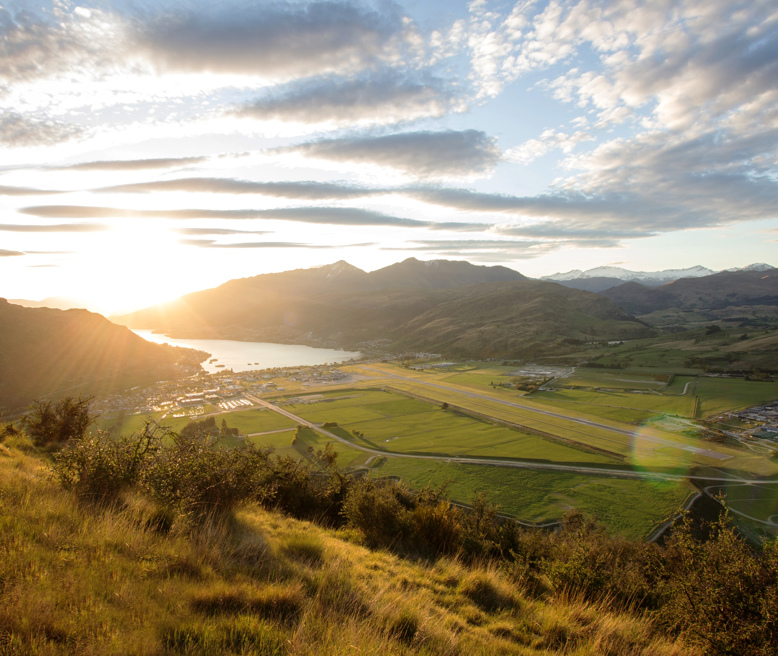 Sara Irvine, General Manager Sustainability and Corporate Affairs, Queenstown Airport
The recently announced carbon zero 2030 target for our district is bold, and it's proven to be unifying. The impact of climate change is right in front of us and a collective response is required.
We support the goal to become a regenerative tourism destination and are working with the Queenstown Lakes District Council, Destination Queenstown, Lake Wānaka Tourism and other partners towards this.
Over the past two years, we have thought deeply about our role as an important infrastructure asset. The airport connects our home with the rest of New Zealand and the wider world, is a significant contributor to the region's social and economic wellbeing, and is an essential lifeline utility.
Our vision is to be an innovative airport that people love to travel through and the community takes pride in.
As a Council Controlled Trading Organisation, we also have a responsibility to run a profitable business, generating dividends for our shareholders, and to provide resilient infrastructure that ensures residents and visitors alike have a great experience when travelling through ZQN.
Our region has one of the fastest-growing populations in the country. An excellent air transport network helps ensure it is a vibrant and liveable place.
The challenge is balancing our activity with the shifts necessary to address climate change and to preserve what makes our region so special.
We've made it clear we are not planning for limitless growth and have committed to operating within our existing air noise boundaries for the next decade. This was a key element of our 10-year Strategic Plan.
This is a significant and timely commitment because it affords us the opportunity to create a shared vision for the future.
We are on the precipice of global changes to aviation as the focus on decarbonisation and innovative technology escalates. It is, therefore, an opportune time to be developing a Master Plan for an airport that is future-ready and continues to contribute to the social and economic wellbeing of the region over the long term.
Carbon-zero air travel is not yet a reality and we will be reliant on advances in aircraft technology and alternative fuels to eliminate aviation emissions.
In the draft Master Plan, which will be ready for public consultation mid-year, we'll be proposing that space is reserved for a precinct to support sustainable aviation. This could accommodate alternative fuel and energy sources such as hydrogen and make provision for electric aircraft. Air New Zealand is committed to having electric aircraft in its fleet by 2030 and electric regional air travel will significantly reduce carbon emissions.
We've put a lot of effort and thought into our Sustainability Strategy and decarbonisation targets.
We've committed to certified renewable energy supply across the entire airport, including ending the use of a diesel generator for supplementary power during periods of peak demand.
We are a member of Toitū Envirocare's environmental management programme and are on track to achieve carbon neutral certification for QAC's operations in this financial year. In coming years, we will progress to global benchmarking with the Airport Carbon Accreditation programme.
We have installed an energy-efficient heating and ventilation system, provided public electric vehicle chargers, and established a composting programme for all organic waste from the airport terminal.
Waste is a significant contributor to the airport's emissions and we began this year with a big resolution – to make 2023 the year we eradicate single-use coffee cups from Queenstown Airport. If you don't think this will make much difference, 7,000 single-use cups a week were sent to landfill from ZQN in 2019. Over a year that adds up to a mountain of rubbish. You can help by travelling with a reusable cup, buying or borrowing a reusable cup, or taking a break and sitting down with your drink.
We hope this campaign triggers a ripple effect and supports the carbon-zero goal by encouraging visitors and residents alike to travel lightly and reduce waste.
This month we launched an airport-wide ZQN Sustainability Pledge, which includes people, planet and prosperity linked commitments.
The challenge is significant and there's a lot to do to become a regenerative tourism economy, but incremental steps add up. We have an opportunity to create a collective movement that enhances everyone's quality of life.
Flying into Queenstown is always a spectacular experience. We know what a privilege it is to live in such a remarkable place. Put simply, we are determined to do the right thing.
Read our full Strategic Plan and learn more about ZQN's Sustainability Strategy.