Bespoke design inspired by natural beauty of region
20 Sep 2023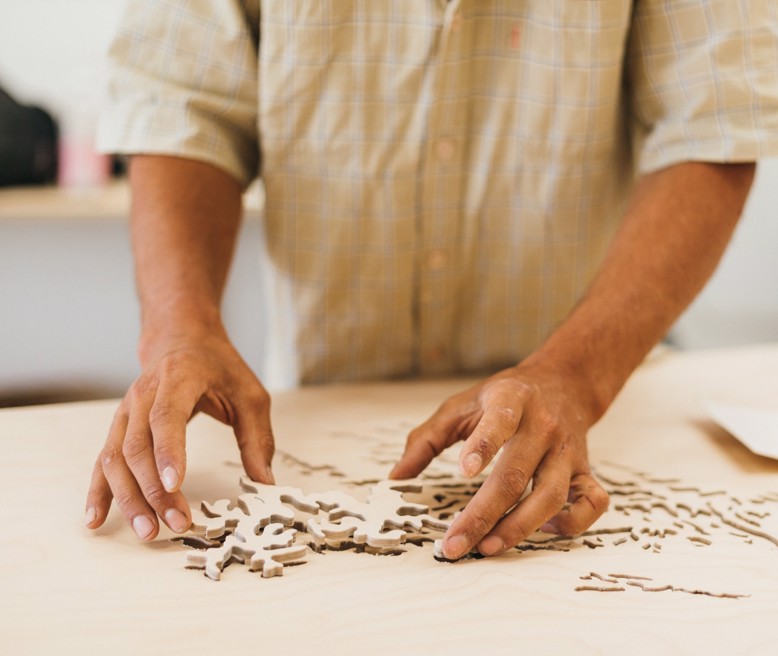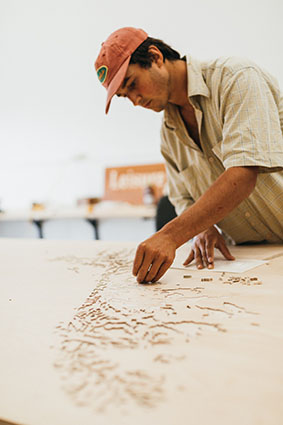 Wānaka-based artist and designer Jonty McCool is inspired by New Zealand's natural beauty and physical forms. That made him the ideal person to call when we wanted to commission some custom artwork for the Queenstown Airport terminal.
We are refreshing the interiors of the terminal, drawing inspiration from the geology of the spectacular Southern Lakes region, using a natural palette and bespoke design elements. Wherever possible, we have engaged local suppliers to help bring the story of our land to life.
Domestic departures area: Jonty's creativity and skill with natural materials can be seen in a custom artwork, sprawling across wooden panels in the domestic departures area, which depicts the braided Dart and Rees rivers that flow from the mountains into Lake Whakatipu near Glenorchy.
Baggage reclaim area: Queenstown Airport serves the Southern Lakes region, so we also asked Jonty to make us a topographical map of the lower South Island. Intricately made from layers of plywood, the map hangs in the domestic baggage reclaim area and gives visitors an introduction to our beautiful region before they head off to explore.
Glass wall: When we installed a glazed wall to make the domestic departures area larger, we called on Jonty's talent again. To meet safety regulations, we needed to put a 'manifestation' or pattern on the glass and saw the opportunity to do something unique. Jonty came up with a design featuring the mountains for which our region is famous, with Mt Aspiring and other peaks of Upper Clutha on one side and The Remarkables range on the other. Very McCool!

A design inspired by the mountains of the Southern Lakes region prevents people walking into this glass wall.
Jonty McCool holds a Bachelor of Design Innovation degree, majoring in Industrial Design, from Victoria University and founded the

Leisure Workshop design studio in the heart of Wānaka in 2020.